Hello from Impact Delta.
 
Enjoy our periodic newsletter, containing insights and news related to ESG and impact investing. In this edition, we look at the upcoming COP 27 climate change summit from November 6-16 in Egypt. Last year participating countries made commitments to greenhouse gas reductions. This year, accountability will begin by checking in on progress. The other theme likely to be discussed is the damage and reparations for lesser developed countries bearing the brunt of climate change, despite not materially contributing to it.  
 
The world remains off track for climate change mitigation targets - Last year's COP 26 in Glasgow was notable for getting more commitments from both private actors as well as government commitments. However, despite this promise, the increase in greenhouse gases in 2021 and 2022 relative to 2019 is the clearest indication that the action is not matching the pledges. The chart below from The Carbon Tracker highlights how the pledges and policies in place aren't likely to hit the 1.5 degree target that will be easiest for human adaptation, with increasingly severe consequences above this level.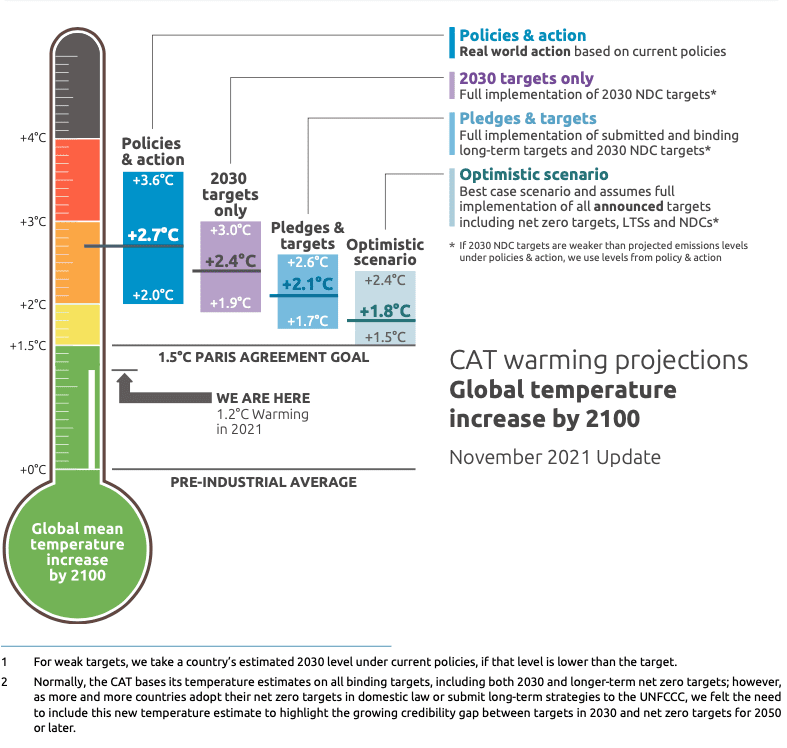 However there has been some progress, especially in power generation - Although it is disheartening to see the gap between what is needed and what has been pledged, there has been some progress over the last decade. The original range of outcomes from 2012 UN IPCC analysis considered an upper range of 5.4 degrees centigrade higher by 2100.  As shown by the graph above, the latest thinking is that current approaches will lead to less than a 4 degree increase by the end of the century at the high end. The biggest driver of the improvement in this modeling is the shift to zero carbon energy through wind, solar and other clean power technologies.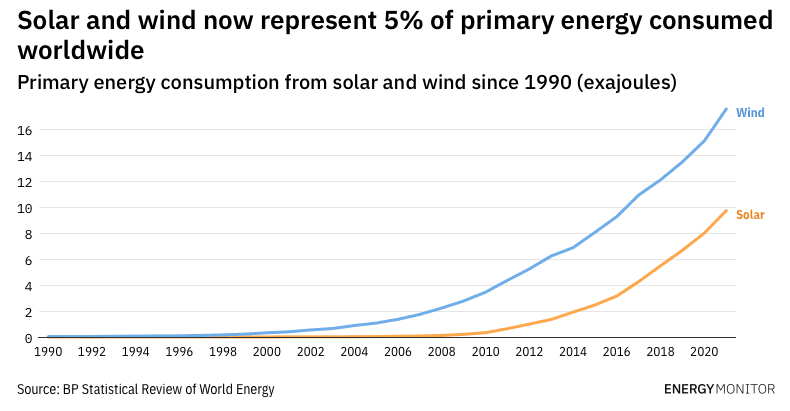 Complacency will be a challenge - Public complacency is perhaps the biggest risk of having made progress over the past decade. The climate naysayers point to this progress as an example of how our technological prowess will solve the issue, therefore committing significant resources to address the long-term risk of climate change is unwise when those resources could be more productively deployed for near term economic development and well-being. Put another way, the debate seems to be shifting from investing in research and technology to having the political will to adopt the policies and existing solutions that will make a difference. Although concern about climate change remains high across most counties, some countries are showing signs that concern has peaked and is starting to decline, making future complacency risk real.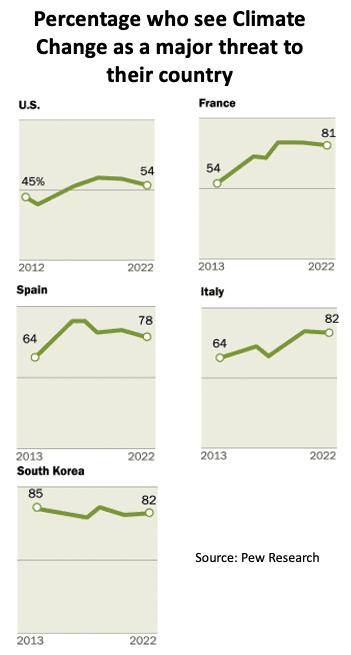 It's the economy stupid (or inflation or geopolitical tension - take your pick) - If the political will to implement policies remains the key challenge to matching commitments with targets, the current geopolitical backdrop certainly doesn't help. With an election year in the US, President Biden has highlighted the need for oil and gas companies to stop returning capital to shareholders and start to invest in production to increase supply and reduce energy prices. It will be interesting if this emphasis persists after the election, which occurs the day after COP 27 starts. Beyond US elections, the tension between Russia and much of the rest of the world has created havoc in the European energy markets. These increased energy costs have contributed to high inflation, all of which puts politicians on the back foot in convincing the public to shoulder costs of building new infrastructure and systems to address climate change. Perhaps most distressingly, the US and China have stopped working together on climate change after a squabble over Taiwan when speaker Pelosi visited the island over the summer. Having the two largest emitters engaged in a standoff certainly won't help the COP 27 agenda. The current political leadership looks likely to come from the EU, which has already indicated it will seek an increase in the commitments made last year, in order to prevent temperature increases from exceeding 1.5 degrees.
Loss and Damage is likely to get more attention - The final topic we expect to get increased attention in Egypt is the idea of compensating developing countries that have nominal emissions on a global scale. There has been a long standing agreement that the rich countries that have benefitted from over a century of fossil-fuel driven growth are overwhelmingly responsible for the climate changes that are causing enormous costs for poor countries. Indeed, in 2016 this was formalized with the objective of developed countries providing $100 billion annually by 2020. It was reaffirmed at COP 26 last year, with an extension to 2025. However, the OECD tracks funding and the graph below illustrates how the amounts have fallen short, reaching only $83 billion in 2020. Given most of the recipient countries generate only a few percent of total greenhouse gasses, yet are currently suffering the most with increased flooding (Pakistan), drought (East Africa) and other climate catastrophes, the issue of following through on the agreed upon funding will get more attention than at prior meetings.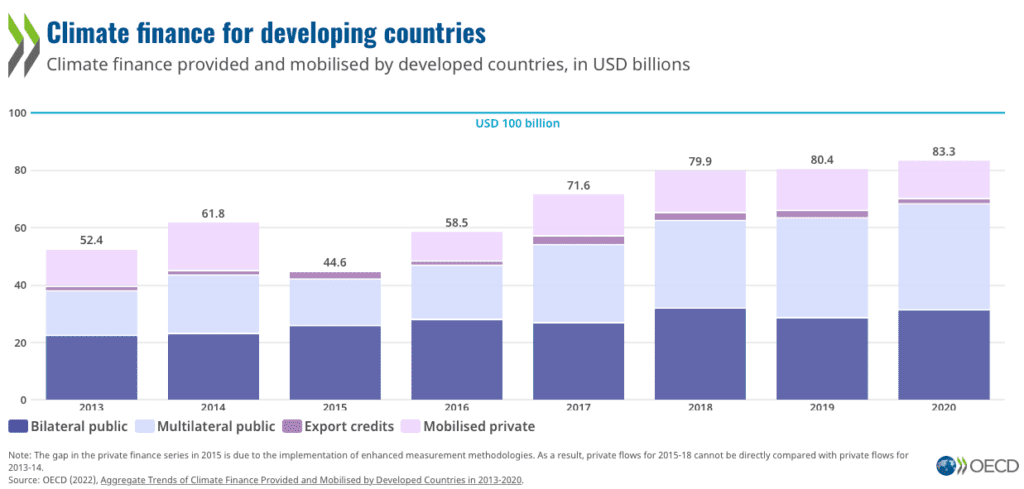 These are some of our thoughts of what we expect to see from COP 27 later this month. Success would be a recommitment and strengthening of targets, ideally with 'teeth' for implementing the solutions. The biggest disappointment would be the largest emitters (US, China, India, EU) failing to reengage for joint action and solutions to improve the current climate trajectory.
With that we wish you a wonderful start to November.

The Impact Delta Team
contact@impactdelta.com

About Impact Delta
A secular shift towards a more responsible capitalism is underway. Impact Delta is a specialist consultancy founded to help investment firms capitalize on this shift. We believe good environmental and social thinking helps investment firms raise capital and earn better returns. More about us here.